How creativity can keep people with dementia eating well even in the later stages
I looked after my Mum along with my sister for the last three years of her life. Her dementia was progressing and finding ways for her to eat with dignity was becoming more of a challenge.
It is important for anyone to have control over things in life, small or large. This does not go away with dementia, in fact it can be even more important to actively find things that give the person with dementia some control, so with food we would always offer a choice – for example "What would you like for your tea Mum – salad or sandwiches?" This way we weren't asking an open question, which she was unlikely to be able to answer and so become frustrated, and she was retaining some control over a small part of her life.
As the dementia progressed it became more difficult for mum to eat with utensils. An issue that she herself was profoundly aware of – we saw her not eat in front of others rather than, as she perceived it, 'showing herself up'. Being able to eat and maintain dignity was clearly very important.
We became quite creative with our mother's food so that, as she lost the ability to use utensils, she was still able to feed herself and have some control over what she was eating.
We turned more and more to finger food.
Selections of salad type food cut into small, bite size pieces were easy to pick up and we actually called it 'making a picking plate'.
We had fun thinking of different fillings for sandwiches that would be nutritious, tasty, attractive and easy to pick up. We then cut them into delightful bite size pieces and presented them attractively on her plate. We would leave off the crusts as it was becoming more difficult for mum to chew.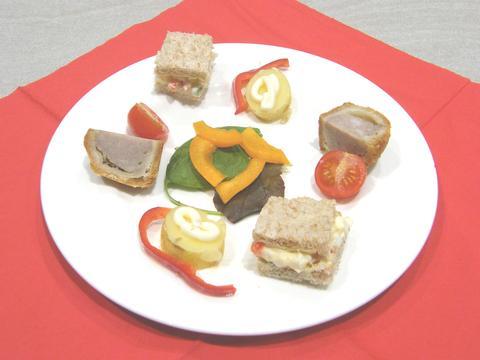 Small new potatoes with a swirl of mayonnaise on top always went down well, along with cherry tomatoes and miniature pork pies cut into small pieces.
We made miniature cream teas –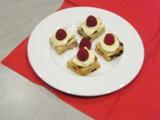 Mum really enjoyed these and they were fun to make. We presented them in patterns as we had noticed that, as she was eating, she pushed the food into very particular patterns. Her mathematical brain was obviously still working.
We found fruit that had lots of juice – eg. satsumas which she could peel and segment herself, again providing that sense of control. Raspberries were terrific and we kept these up right to the end – they were perfectly sized for her to pick up, brightly coloured, squashed in her mouth, were tangy, had plenty of juice and they contain many essential nutrients. We offered raspberries arranged in square numbers she would make triangular numbers as she ate! So whilst eating her brain was working as well.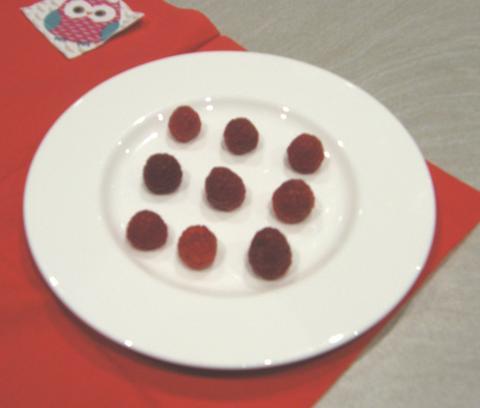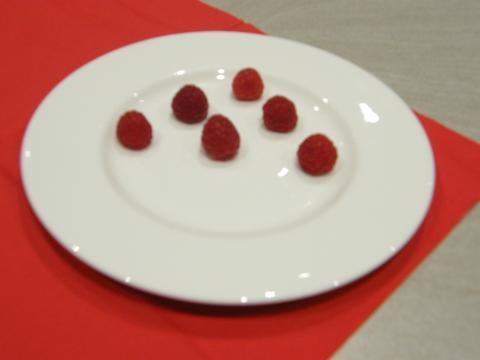 We also became inventive with soups (although, later on, she was unable to eat these independently). This caused us to experiment with herbs and spices to ensure that they were tasty enough to excite mum's ever failing taste buds. It also became a creative challenge for us to ensure that adequate nutrition was in the soup and that it both looked and tasted good. This actually taught us a lot about flavours. Towards the end we had to use thickeners in all liquids (available on prescription from the GP). These were particularly good in lemonade but were disgusting in tea!
The whole problem of spills was overcome, not by demeaning paper or plastic 'bibs', but by making aprons especially for Mum which became our Dining Draprons® now featured on this website. (www.limonattire.com)
So you can see that being creative and observing what the person likes and can manage with their food can keep someone with dementia eating well and providing a small amount of control in their lives even in the very late stages.